- THE ADMIRALTY TRILOGY -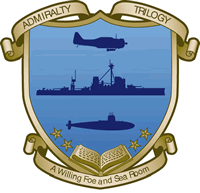 ABOUT US
The Admiralty Trilogy is a family of related simulations that covers tactical naval warfare in the 20th and 21st centuries. This three-time award-winning family includes, Fear God & Dread Nought, Command at Sea and Harpoon4. These three wargames form the central foundation upon which numerous supplements and a bi-annual magazine, The Naval SITREP, are designed and supported.
The principal goal of the Admiralty Trilogy is to allow a player to experience naval history as never before with an easy to use miniatures game. By using a common game structure, with well-researched information, the trilogy series faithfully illustrates how naval warfare has developed over the past 110 years.
The Admiralty Trilogy games place the player in the role of a ship or formation commander in a realistic tactical environment. Each game presents the player with the same kind of tactical problems, based on the same data, that a naval commander faced while employing his forces. Victory depends on knowing your own capabilities and those of your opponent, and making the right decisions at the right time.
The Admiralty Trilogy is more than just a series of games. They are an accurate simulation of over a century of naval warfare. The combat models that make up the heart of the trilogy are based on accurate technical data combined with extensive engineering and operational analysis. Tactics that were successful throughout history will also work in the games.
Drawing on extensive wargaming, technical, and naval experience, the designers of the Admiralty Trilogy have accurately captured the feel and flavor of commanding a ship that intentionally sails into "harm's way." Are you ready to accept command? If so, join us as we seek a willing foe and sea room to maneuver.

Larry Bond
Larry Bond is 63 and lives with his wife Jeanne in Virginia, outside Washington DC. After co-authoring Red Storm Rising with Tom Clancy, he has teamed with several different authors to write eighteen novels: Five with Pat Larkin, starting with Red Phoenix, eight with Jim deFelice, The First Team and Red Dragon Rising series, and five with Chris Carlson, including the Jerry Mitchell series, and his latest book, Lash-Up. Five have been New York Times bestsellers.
He has also co-designed the Admiralty Trilogy series games, which include Harpoon, Command at Sea, and Fear God & Dread Nought. All three have won industry awards.
Larry's only nonfiction work is The Mighty Fallen, in collaboration with the photographer f-stop Fitzgerald. A photographic visit to military memorials in the United States and Canada, Larry's introduction and text accompany f-stop's stunning photographs of monuments honoring the service and sacrifices made by America's veterans.
A U.S. Navy veteran, Larry was a Surface Warfare officer before leaving the Navy in 1982. He then worked as a naval analyst for defense consulting firms in the Washington, DC area. He now writes and designs games full-time.
Larry is an avid wargamer and modeler.
Visit Larry's Facebook page for up to date information on his latest projects. He also has an entry on Wikipedia.

Christopher Carlson
Christopher Carlson, is a Minnesota native, graduated from the University of Minnesota in 1982 with a Bachelor of Science in Mechanical Engineering, and received his commission through the Naval Reserve Officer Training Corps program. After graduation, he completed the nuclear power and basic submarine officer training curriculum and reported aboard USS Lafayette (SSBN 616 Blue). He then spent three years at the Defense Intelligence Agency as an undersea warfare analyst before resigning his active commission in 1990. He affiliated with the Naval Reserve Intelligence Program where he served in a number of units and staff positions, including two assignments as a unit commanding officer and as a regional intelligence area chief staff officer. He retired from the U.S. Navy Reserves in 2008 with the rank of Captain.
Chris was formerly employed by the Defense Intelligence Agency as a senior naval systems and warfare analyst providing technical intelligence products and presentations to national decision makers and the acquisition community. He retired from the Department of Defense in 2010 after serving as the Senior Intelligence Officer and acting Division Chief of the Acquisition Support Division, Defense Warning Office.
Being an avid wargamer from an early age, Chris is one of the co-designers of the Admiralty Trilogy tactical naval wargame series: Harpoon4, Command at Sea, and Fear God & Dread Nought. All three have won numerous industry awards, and have expanded to include numerous supplements and stand alone games. Often dubbed as Larry's "science officer," Chris has also authored many articles in the Naval SITREP on modeling and technical naval issues.
Chris has teamed up with Larry Bond and co-authored a short story, Burial at Sea, in the Tombs anthology, as well as four full-length novels, Dangerous Ground, Cold Choices, Exit Plan, and Shattered Trident. Their next book, Lash-up, is due out in the spring of 2015.

Mike Harris
Michael W. Harris grew up in Minnesota, graduated from the University of Minnesota in 1983 with Bachelors of Art in Political Science and History, and received his commission through the Naval Reserve Officer Training Corps program. After graduation, he completed Surface Warfare Officer school and served aboard USS Iowa (BB 61), USNS Waccamaw (T-AO 109) and USS Guadalcanal (LPH 7). He had one tour ashore at Readiness Support Group Atlantic. His most exciting tour was as Turret Officer onboard Battleship Iowa where he could feel the touch of the past in every 16-inch round he shot down range. As he comments on the experience, "It was a real blast".
Mike spent a number of years as defense contractor supporting Navy maintenance programs before become a Navy civilian employee. He is currently serving at Commander, Naval Surface Force Atlantic and is responsible for scheduling U.S. Atlantic fleet surface ship depot maintenance periods and is the program manager for U.S. Atlantic fleet surface ship material condition assessments.
Being an avid wargamer from an early age, Mike is one of the co-designers of the Admiralty Trilogy tactical naval wargames: Command at Sea, and Fear God & Dread Nought. Both games have won numerous industry awards, and have expanded to include numerous supplements and stand alone games.
Noted as a highly prolific scenario developer, Mike has built most of the scenarios the Admiralty Trilogy team has run at the HMGS Cold Wars and Historicon conventions over the past two decades These convention combats have ranged from historical or near-historical such as Goeben/Breslau meeting the Austrians to fight the French, to the world of Hollywood with the Battle of Pala Passage from the movie "In Harm's Way". There have also been scenarios that challenge the realm of reality, such as when the World War I armored cruiser Blucher rose from the depths to aid an outnumbered NATO squadron against a massive Soviet flotilla. Although an unusual scenario, the ship miniature itself, bedecked in mottled colors with seaweed strewn about, drew as much attention. Mike always makes the scenarios interesting, often highlighting a unique historical situation or a tactical nuance that gives each engagement its own appeal. Most all of these scenarios can be found in the Naval SITREPs along with a guide on how to build your own tactical naval combat scenarios.

Ed Kettler
Ed Kettler has been part of the Admiralty Trilogy crew since 1987 when he contacted Larry Bond to get some updates done for Resolution 502, and ended up designing South Atlantic War as a complete module for the Harpoon. The next big effort was the initial work on backdating Harpoon to World War II and early development of the gun and armor model to form Command at Sea. Continuing his scenario development work, he was the lead designer on the Rising Sun scenarios for the first half of the Pacific war, High Seas Fleet for Fear God & Dread Nought and Steel Typhoon for CaS to wrap up the Pacific campaign. He has worked on most of the Admiralty Trilogy projects as a reviewer and contributor, and is currently working on the development of the land combat system, which will lead to a series of products related to amphibious warfare over the next several years.
Ed has been a gamer since the age of 10, and finds miniature gaming a great combination of modeling and gaming. An aviation enthusiast from childhood, he holds a private pilot rating and has volunteered at the Cavanaugh Flight Museum in Addison Texas since 1998 where he gets to interact with the historic planes and the great folks who flew them. Some of the planes he has flown in with the museum include Stearman, Texan, S2F Tracker, Avenger, Skyraider and C-47. When he is not hanging out with the full scale planes, Ed enjoys radio control aircraft and runs one of the large warbird events, Warbirds Over Texas.
Ed has worked in the IT industry for over thirty years, and lives in Fort Worth with his wife Mercy. They have two grown children. He started out as a history major, then discovered business then computers, and hasn't looked back. Gaming, game design and volunteering fulfill his history needs. He holds an MBA from Southern Methodist University