- THE ADMIRALTY TRILOGY GROUP PRESENTS -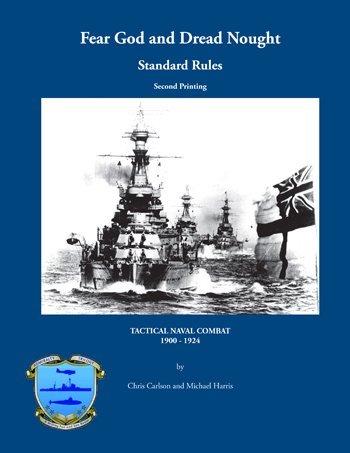 FEAR GOD & DREAD NOUGHT
Fear God & Dread Nought uses the same format and terms as the other Admirality Trilogy games . Those familiar with either of these games will have no difficulty stepping into the First World War. A jumpstart scenario allows the novice to play quickly, with several scenarios also being optimized for solitaire play. While comprehensive, the rules are easy to follow for experienced gamers, and novices alike.
Emphasizing playability as well as scrupulous historical accuracy, research for the game has involved many of the best naval historians in the world. The 40+ scenarios in the High Seas Fleet booklet include the well-known big battles like Jutland (broken into three parts, as well as the complete engagment) and Dogger Bank, and many smaller fights. The scenario often include variants, covering historical "almosts" and "what ifs".
The Data Annex provides ship class statistics for the Japanese, Turkish, Austrian, and Russian navies as well as the British and German fleets. The Data Annex also supports the ship classes with carefully-researched data on the guns, torpedoes, mines, and aircraft of the era. It is a valuable reference by itself.
With this product, one need only Fear God & Dread Nought!