- A NOTE FROM LARRY BOND -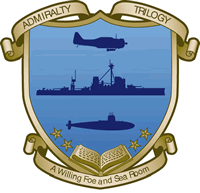 WELCOME ABOARD!
Everyone at ATG is saddened by the death of one of its designers, John Gresham, who passed away on July 2nd after a long illness. He was 58. John was co-author of Supermarina, Volumes I and II with Mike Markowitz. Over the more than twenty years he worked with ATG, he contributed six articles to the Naval SITREP, and provided assistance to the authors of many more. He was generous with his time, sharing information and research materials with colleagues. His most recent piece was an update on the Littoral Combat Ship program, which appeared in issue 49 (Oct 2015).

John was an excellent interviewer and researcher, and had a near-photographic memory. He combined the skills of a journalist and photographer, researcher, military historian, and writer. He covered all aspects of the U.S. military, but had lately written for Defense Media Network's Year in Special Operations. John worked with many prominent authors, including Tom Clancy for his non-fiction military reference series. DEFCON 2, co-written with Norman Polmar in 2006, is the best one-volume treatment of the Cuban Missile Crisis. His most recent book, Beyond Hell and Back (2007, with Dwight Jon Zimmerman), described seven key U.S. special operations missions.

He was also active in audiovisual media, with a weekly Internet audio show, Military Mondays, and collaborated on scripts for many different television shows, including the History, Military, New York Times, Discovery, and National Geographic channels. Not all the articles that John wrote were published, but all of them were good history, and interesting.

He enjoyed close ties with many in the naval aviation community. Because of this, he was able to obtain cockpit audio tapes of a huge air battle that happened on 10 May 1972 over the Hai Duong Rail yard in North Vietnam. Pilots came back from leave in Japan with the brand new transistorized tape recorders. They spliced these into the radio circuit in the cockpit to record their conversations. This was a big help during debrief after the mission.

Hai Duong was a big raid. Carrier Air Wing Nine (CVW-9) sent its two squadrons of A-7E Corsair IIs and squadron of A-6E Intruders, escorted by the wing's two squadrons of F-4Js. The raid was fiercely opposed by North Vietnamese air defenses. Dozens of SA-2 were fired, and as many as 36 MiG-17s, MiG-19s and MiG-21s were launched. Between 20 and 24 enemy aircraft actually intercepted the Americans, and engaged 30 strikers and escort aircraft. Two U.S. F-4Js and five MiG-17s were downed. Of note is that three of the MiGs were shot down by one aircraft, Showtime 100, crewed by Lieutenants Randy Cunningham and Willie Driscoll. These were their 3rd, 4th, and 5th kills, making them the first ace crew of the Vietnam war.

As if this wasn't enough, Randy "Duke" Cunningham claims that during the Battle, he fought the legendary "Colonel Tomb," a North Vietnamese ace, and shot him down. To top it all off, their F-4J was one of the two that was shot down. Accounts differ as to whether it was shot down by a SA-2 (John's assessment, along with others) or by Colonel Tomb (Cunningham's claim, supported by some historians). Cunningham and Driscoll were successfully rescued.

John's article is organized around a transcript of the radio calls, with narration and explanations inserted as necessary. He built on this detailed timeline by interviewing pilots that took part in the raid, including both Cunningham and Driscoll.

The article itself is interesting enough, but we also have the original cassette tape (converted to .mp3 files) and the transcript. The .pdf files of John's article, the transcript, and the .mp3 files are available here, on the Wardroom page, for free download. Listening to the real-world SAM and fighter calls, hearing the cockpit alarms in the background, while following along in the transcript, instantly brings you into the air battle.
Larry Bond